WE ARE WHAT WE WEAR
FANWAGN is a dynamic re-commerce marketplace that serves as the ultimate connection point for fans of teams and athletes, enabling them to discover, purchase, and sell a wide range of fan gear. Our online platform is specifically designed by fans, for fans, to facilitate closet-to-closet transactions between buyers and sellers of pre-loved identity-centered apparel.
While our initial focus lies in the realm of licensed sports apparel, the FANWAGN marketplace offers an extensive array of options for sellers to reach out to sports enthusiasts in search of second-hand apparel. Whether collectible jerseys, matching gear for a group attending a thrilling game, or play-condition shirts for kids, our platform, aptly named "Second Fan Fashion," breathes new life into gently used fan apparel while promoting the principles of reuse and recycling.
FANWAGN will change how sports fans discover, collect and resell fan apparel representing their favorite teams, players, events, and leagues. It's an online re-commerce marketplace built on today's leading technology to facilitate tomorrow's online shopping experience. 
FANWAGN aims to change the online shopping experience from a "search-and-save" browsing action to a "decision" action by using customer data to identify apparel preferences and matching those to the dynamic inventory on our marketplace. We plan to use transaction and inventory data to identify valuations and preferences of the many variations of fan apparel, including logos, color combinations, athletes, numbers, events, and rarity. 
introducing innovation solutions
The idea for FanWagn stems from frustration at having a growing pile of sports clothing my children outgrew. Since we lived far away from our beloved teams, I couldn't easily pass them on to fellow fans. The frustration inspired me to research online marketplaces and identify the gaps as a seller and buyer of sports fan wear.
Problems FANWAGN addresses include:
BUYERS: Sourcing fan wear that is either affordable or collectible in a dedicated marketplace
SELLERS: Reaching customers seeking desired fan wear without limits on geography
LEAGUES/TEAMS/MANUFACTURERS: Provides a step toward reaching sustainability goals by partnering on preferred resale shops for already created and sold apparel.
Textile waste and disposable fashion are enormous problems for our world. Creating more solutions for reuse and recycling to combat the impact of textile waste is what truly motivates me as a founder. I want to use the success of this business to invest in solutions to address this on a grander scale.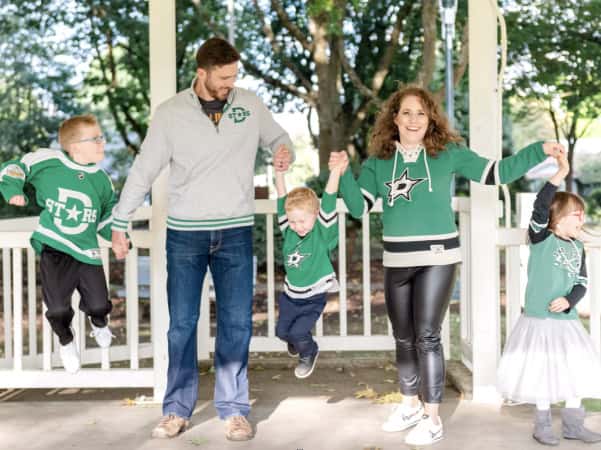 About the Founder
Lauren Teague is a strategist, a social media pioneer, and now the founder of FANWAGN. With a wealth of experience in sports and digital, Lauren built her career at the PGA TOUR and Convince & Convert Consulting. She is also a sought-after speaker known for her expertise in fan engagement and marketing strategy.
Lauren's passion for fandom is contagious. She believes that we all represent our favorite teams and players when we go out into the world and that sharing that passion is a way to connect with others who feel the same way. She's the host of the Brand to Fan Show, a podcast that unpacks the phenomenon of fandom to help entrepreneurs and marketing leaders build brands with fans, not followers.
With FANWAGN, Lauren is on a mission to celebrate the unique spirit of sports fandom and create circular options for sports textiles to make fandom more sustainable.
Offline, Lauren is a real-life minivan-driving hockey, dance, and soccer mom to the #TinyTeagues. She used to be a single-digit handicap golfer but now is lucky to get in nine holes at a time, usually on her local par-3 course with kids in tow.